Posts Tagged 'small business'
My Top (Seven) Business Books
At a networking meeting I attended in the summer, the speaker told us about her list of top ten business books. They were all books she'd read and she knew many of the authors. It was her take on the best books – not the Times bestseller list. It was a great idea, so I thought I'd look through my bookshelves and tell you about some of my favorites – seven of them, at least.
Master Your Inner Critic, Release Your Inner Wisdom by Melanie Greene. Do you have a little voice inside your head, or on your shoulder, who tells you that you're not good enough? Mine is actually mentioned in this book, as Melanie helped me deal with him in one of her workshops, as she was writing her book. He's now under control and this book can help you deal with yours too. Find out more here.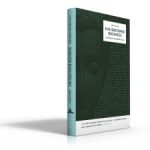 Enlightened Business is a jewel of a book, created by Joolz Lewis from Enlightened Business. It's not just on my list because I'm mentioned in it! If business for you is about more than just making money and working silly hours, if it's about giving something back and looking for the real reason that you run your business, this one is for you. It's a beautifully written handbook for people who want to make a difference through their work and business. You can buy your copy here.
Attracting Perfect Customers by Stacey Hall and Jan Brogniez. This book changed my business and changed the way I work with my clients. It shows you how to attract to you, the clients you really want to work with. No more putting up with difficult clients or late payers or people who never say thank you! And it makes your marketing so much easier too. You can easily find this one on Amazon.
Who's Paying for Lunch? This is the best book I've read recently about how to get more sales and is written by my client Tamara Howard, from Verve Consulting. If you run a small or medium sized business and want to sell more, then this book will show you exactly how, with no messing around. Buy it online here.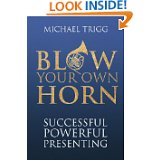 Blow Your Own Horn by Michael Trigg. I've read a number of books about speaking and presentation skills and listened to many good speakers talking about how to do it. Michael's advice really stands out! The book is very easy to read, despite being packed full of tips, tricks and ideas to try out. His technique for using 'Magic Notes' is just brilliant. This is a very clever way of putting all the key points for your talk onto one piece of paper. I tried it out and was really pleased with how much it helps. I even wrote a blog about it here! This is another you can find on Amazon.
Roget's Thesauraus. This is my bible when I need a different word for business (organization, company, entity, vocation, job, chore …) or a shorter word for 'Conference' ('event' works well!)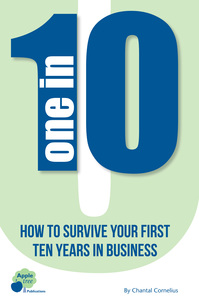 One in Ten. Of course this one has to be on the list, because I wrote it! It is the story of the first ten years of the life of my business and I really just wanted to share some of the ups and downs. I've spoken to many new business owners who are surprised by how tough it can be. If someone told me, honestly, how hard the first few years would be, I'm not sure I would have started my business. If someone had told me that, just as you think everything is going fine, something or someone will come along and knock you back down again. So this book is the one I would love to have read, just as I started my business, because it is full of honesty about the mistakes I made; but it's also packed with advice on how to keep going and build a business you love – which is what I have now! One in Ten is my way of sharing this with you. It's currently on offer for just £10 + postage and you can order a copy here.
There are loads more great book out there that will help you with your business. Which ones do you recommend?
In the A ? Z of Marketing, U is for … Unique
What makes you different? What makes you stand out from all the other people who do exactly what you do?
I meet a lot of business owners who proudly tell me that they're different to their competitors. "How are you different?" I ask them. The answers I hear usually include phrases like 'providing value', 'building relationships', 'working in partnership with our clients'. And I just yawn. Why? Because I've heard it all before!
When you provide a service, it can be hard to distinguish your business from the others around you. Unless you compete on price and can say that you charge less than anyone else, you need to look for a better way to show potential clients why they should work with you instead of anyone else.
Here's something for you to think about.
Who are you?
If you run your own business, or you're the public face of the business where you work, you'll be meeting prospects and getting to know them. Have you noticed that you don't like everyone you meet, or that you don't 'click' with every single person you speak to? This is because we like people who are like us. We gravitate towards others who share our values and beliefs.
Like it or not, when services are involved, people really do buy from people. This means that some of your customers will buy from you, simply because of you. There will be other companies that can do exactly what you do, and possibly for less money, but if someone who is in the market for your service meets and likes you, you're in with a great chance.
How do you promote 'you'?
By being yourself! Be authentic and true to your values. Let people get to know the real you and the ones who you like will want to work with you.
What about the people with whom you don't click? Don't waste time chasing after them ? after all, why would you want to work with someone you don't like?!
How do you do what you do?
Once you've worked out how to promote 'you', think about how you do what you do. The way in which you deliver your service will be different to the ways that your competitors do it. For example, one of the things that makes Appletree different from the millions of other marketing companies out there, is that we get stuff done. We don't leave it to our clients to do all their marketing. We often receive calls from clients asking us to do something, to which we can reply "we've already done that for you." We like to be a step ahead of our clients, so they don't have to think about their marketing and can instead focus on doing what they do.
What makes your business different and how do you tell people about it?
One thing I see quite regularly in business is the need for new blood. Many small businesses find themselves in a cycle ? the ?feast and famine? rollercoaster. They spend lots of time doing marketing, generating new exciting work and clients and then get wholly distracted by the work these clients bring in. It?s wonderful to see growth, but then they can lose sight of their marketing. Suddenly the work dries up, or they learn to cope with their demand so they start a massive push for marketing again. But the new work coming in leaves them too busy to focus on their marketing again.
It?s such a simple problem, but once you?re on this rollercoaster, it?s almost impossible to get off. Businesses are left being either too busy, or not busy enough. And when they aren?t busy enough, they figure out how to get too busy again. Surely, structure would help? Inconsistent marketing leads to inconsistent results. You?ll never have a steady income of clients, workflow or finances that way. A successful small business knows how to maintain a consistent stream of work and how do they do it? Consistency and planning. So, I?ve been working on a way to get small businesses out of this cycle, and am very excited ? this would change a lot of businesses for the better.
FastTrack Your Business in Just One Day is an interactive workshop that will show you how to plan your marketing and fit it conveniently into your busy schedule, to give you a regular flow of new clients. It?s a smart move for any business to make. The workshop will help you create a plan that you can take away with you and put to work in your business, straight away. We?re going to cover things like where to go with your business; how to get there; which clients can make it happen for you; and the best marketing activities you can use to attract them. In just one day, you can walk away with a clear plan to follow ? one that?s appropriate to your business. This is not a ?one-size-fits-all? programme, which is why I?m looking forward to it. This is a workshop that could change the way you see marketing and your business.
There?ll be opportunities to network with other businesses, alongside exercises and practical advice ? it?s a unique opportunity to meet people at a pivotal time in their business marketing. If you?d like to join me, click here to find out more and to book online for just £49 +VAT for the whole day.