Posts Tagged 'businesses'
How Do You Write a Book to Market Your Small Business?
Recently I was introduced to a lovely lady called Kate, who is a coach and a trainer. She was interested in writing a book in order to share her knowledge and expertise, but she really didn't know the best way to go about doing this. I suggested that she come and spend half a day working with me, in the inspiring surroundings of Appletree HQ, so that we could work out exactly what she should write about.
I thought I'd share with you the process we went through, because if you're thinking about writing a book and don't know where to start, it might just help!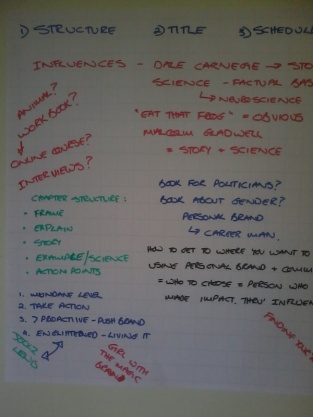 What's on your mind?
The first thing I did was ask Kate to tell me why she wanted to write a book and what ideas she'd come up with so far. I summarized what she told me on a flip with some coloured pens. A couple of key points came out – such as Kate's idea about interviewing a number of different people, to get their take on certain topics. She had already come up with an idea for the structure of each chapter and just wasn't sure if it would work, so it went onto the flip chart which we stuck on the wall.
A good way to get started is to just get all your ideas out of your head and onto a piece of paper or a computer screen.
What do you do?
The next thing I did was to ask Kate about her business. I handed over the flip chart and pens and, using diagrams, she described the three main aspects of her business, which we'll call A, B and C. From this, we worked out three possible book topics – A + B, B +C and A + B + C. As we sat and looked at the three possibilities, it became obvious that Kate's book should be about A + B + C because it was very unique.
It sounds simple, but again, getting ideas out of your head and sharing them with someone else can really help.
Who do you know?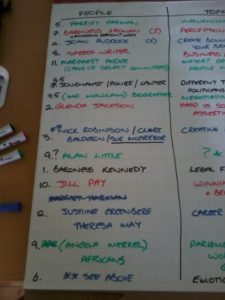 By this time we were getting hungry, so we took a quick break for lunch in the Appletree kitchen and when we came back, we split the next flip chart into two columns. On one side we started to write a list of people who Kate would like to interview for her book; on the other side we created a list of topics she wanted to cover. We worked on both sides, matching up topics and interviewees, looking for the right people for the right topic (and vice versa.) Kate knows lots of very interesting people and is very well connected, so this was not difficult to do.
While interview won't be right for everyone, brainstorming a list of potential topics is the next logical stage.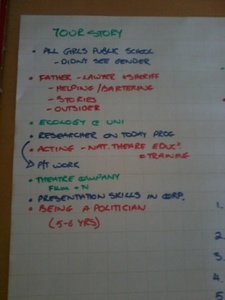 How do you bring it all together?
This was all going really well, but there was something missing. Kate told me that she wanted to talk about 'her story' and somehow bring that into the book. So we talked about her early days, her influences and what she wanted to achieve in the future. We wrote a list, in chronological order, of the challenges that she's faced and overcome during her life.
Then we did something really clever. We took Kate's list of 12 challenges and matched them up to the 12 main topics and interviewees that we'd already identified. All of a sudden, we had a brilliant order for the chapters of the book, each of which could talk about Kate's own challenges and how other people have dealt with and overcome the same issues, through the interviews she's going to use.
Every book needs a good order, whether it's chronological, alphabetical or something else. Work that out and you're halfway there!
Get writing!
So now Kate has a structure for her book and for each chapter. She knows who she needs to speak to and she knows that she needs to get on with the writing. All she needs to do now, is get started!
In the A – Z of Marketing, Y is for … You!
Many small busin
esses struggle to work out their USP – unique selling point – that makes them different and makes them stand out from the crowd. Without a USP it can difficult to persuade a potential client to work with you, rather than one of your competitors. For many years I've wondered about USPs and what makes very small businesses (ones with only a couple of people in them) really different. For years I've tried to avoid one idea that kept cropping up. And then a few years ago, I gave in and accepted the fact that the thing that makes these small businesses different is mainly the people.
If you run your own business and there's just you (or you are the 'front' or the 'face' of the business) then your USP is … you! You are what makes your business different. You might be an accountant, a sales trainer or a life coach. The service you provide to your clients is essentially the same as other accountants, sales trainers and life coaches, what makes your service different is the way in which you deliver it ? your knowledge and expertise combined with your personality and the way you do things.
How can you use 'you' to promote your business?
We all like to work with people we like. I've written about the Law of Attraction in other blog posts (click here to read one of them) but basically, it's about finding people who are like you, because you'll like working with them and they'll want to work with you. You need to know who you are and what makes you tick, because when you do, you'll be
able to look for people like you. I'm quite a bouncy, positive, creative sort of person. When I meet people who are loud and brash, or negative and always complaining about the weather, I find it really difficult to work with them. So I don't! I focus on the other Tiggers who have loads of ideas about their business and a positive attitude and we have lots of fun together!
Let prospects meet 'you'.
The other way in which you can use 'you' to promote your business is through marketing activities like networking. It's not about standing up and ready off a one minute pitch about your business and how great you are. It's about using networking to let people meet the real you, because if you're the only one in your business, or you're the face of the business, your clients will buy into 'you'. Tell them who you are and what makes you tick and you'll find it easier to attract the right clients to your business.
So if you're like me and you've been looking for the USP in your small business, stop looking and just work on being you!
Do You Work With Your Competitors or Against Them?
Once upon a time there was a very successful business consultant – let's call him William – who ran a number of Retreats for businesses. Every year a group of business owners would gather at a quiet, elegant venue and discuss the future of their businesses. They'd work on getting clear about what they really wanted from their businesses and look for new and exciting ways of achieving it – William was never one for settling for an ordinary business! At the end of each Retreat, the guests went away full of ideas and inspiration, leaving William to think about how to keep improving the Retreat for the following year.
One day William went skiing and met another brilliant business consultant – let's call her Bev. Aside from skiing, Bev had a passion for leadership and believed in creating the right environment for people to flourish, so they can do what they love and earn a great living from it. Technically, Bev and William were in competition with each other. They both specialised in helping business owners do great things with their businesses. They both worked with large and small organizations, with groups and one-to-one. They were both committed to supporting their clients on an ongoing basis, to help them grow their businesses and reach their goals. When they realized that they were competitors, William and Bev could have put all their efforts into out doing each other – spending more money on their own websites and the rest of their marketing, in an attempt to attract a greater share of potential clients who were looking for people who could help them. They could both have expended huge amounts of energy, trying to show the world why they were better than the other one.
Or, they could have decided to work together, to combine their energies and their experience, to create something even more powerful than either of them could do on their own. So that is what they have done!
The result is Future Retreat, which is being held on 25-27 September 2014 at Guyers House Hotel in Wiltshire.  It is your time out to reflect, review and redefine your business. If you're looking for clarity and direction for the coming year, then this collaborative event is for you. You know that life can be challenging and often a struggle – especially on your own. Your days are busy, your results can be up and down and sometimes seeing your way clear to stop and think – even for a moment – feels tough. Future Retreat is your chance to take time out, focus on the future of your business, explore new possibilities and have some fun in beautiful surroundings.
Come and spend time with a group of the right people, with the opportunity to focus on your business. Meet the people who can help you drive your business forward. Get to know other business owners with whom you can collaborate on exciting new opportunities that would not otherwise present themselves to you.
I've already booked my place on this year's Future Retreat. Why? Because I want to take a couple of days out of my business, to create a really strong plan for next year, and because I know that there will be competitors there who I will be able to work with.  Also, because I introduced William and Bev on the ski slope earlier this year. I've seen them work separately and can't wait to see what they can create together!
There could be other business owners attending the Future Retreat who do exactly what you do. Will you see them as competitors against whom you have to work? Or will you see them as collaborators and supporters, who you can work with, just as William and Bev are doing, to create something amazing?
Reserve your place now! To spend time with William, Bev and other potential collaborators, book your place now as they are limited. One single payment of £1,200 +VAT covers everything – wonderful accommodation, delicious meals (including a sumptuous Black Tie dinner) and all the refreshments you need to rejuvenate you and your business. Or make two payments of £600 +VAT. Go to www.FutureRetreat.com to book your place and start collaborating!
In the A ? Z of Marketing, U is for … Unique
What makes you different? What makes you stand out from all the other people who do exactly what you do?
I meet a lot of business owners who proudly tell me that they're different to their competitors. "How are you different?" I ask them. The answers I hear usually include phrases like 'providing value', 'building relationships', 'working in partnership with our clients'. And I just yawn. Why? Because I've heard it all before!
When you provide a service, it can be hard to distinguish your business from the others around you. Unless you compete on price and can say that you charge less than anyone else, you need to look for a better way to show potential clients why they should work with you instead of anyone else.
Here's something for you to think about.
Who are you?
If you run your own business, or you're the public face of the business where you work, you'll be meeting prospects and getting to know them. Have you noticed that you don't like everyone you meet, or that you don't 'click' with every single person you speak to? This is because we like people who are like us. We gravitate towards others who share our values and beliefs.
Like it or not, when services are involved, people really do buy from people. This means that some of your customers will buy from you, simply because of you. There will be other companies that can do exactly what you do, and possibly for less money, but if someone who is in the market for your service meets and likes you, you're in with a great chance.
How do you promote 'you'?
By being yourself! Be authentic and true to your values. Let people get to know the real you and the ones who you like will want to work with you.
What about the people with whom you don't click? Don't waste time chasing after them ? after all, why would you want to work with someone you don't like?!
How do you do what you do?
Once you've worked out how to promote 'you', think about how you do what you do. The way in which you deliver your service will be different to the ways that your competitors do it. For example, one of the things that makes Appletree different from the millions of other marketing companies out there, is that we get stuff done. We don't leave it to our clients to do all their marketing. We often receive calls from clients asking us to do something, to which we can reply "we've already done that for you." We like to be a step ahead of our clients, so they don't have to think about their marketing and can instead focus on doing what they do.
What makes your business different and how do you tell people about it?
Content is Queen
When I first set up Appletree back in 2000, I worked as a freelance copywriter. I wrote content for all sorts of marketing material, for all sorts of small businesses. As time has passed, we've done a lot of other things to help businesses with their marketing.
But one thing has stayed constant – the provision of content for our clients. Why? Because content is the best way for our clients to promote themselves. It's also been a great way for us to promote Appletree, so this blog looks at why Content is Queen!
When you provide a service to your clients, rather than selling products, what you're actually selling is your expertise and your knowledge. You are selling all the stuff in your head that you've collected over the years of doing what you do. To get that information and knowledge out of your head, you need to create content. It will form the basis of all the marketing you do – regardless of the different marketing tools you use.
Show you know your stuff
With services, you need to encourage a prospect to worth with you, before they've seen the results you could achieve for them. To help you do this, you need to demonstrate to potential clients that you know your stuff. There's no better way to do this than be creating content. Share your knowledge in a free email newsletter; put your opinions into a regular blog; give away snippets of advice in your tweets. This will all show prospects that you really know what you're talking about.
Send traffic to your website
When you put new content onto your website, you give the search engines a reason to go back and look at your site again. You also give real people a reason to visit it again. You could update your website just by changing a few words, but why not share a blog post, add an article or put up a useful fact sheet? That way, when you tweet about the latest addition to your site, you have something that is really worth looking at. And keeping visitors going to your website has got to be a good thing!
Integrate your marketing
Ad hoc marketing just doesn't work. You need an integrated, consistent approach and content is a great way to do this. If you write an email newsletter every month, turn the copy into one or two blog posts and dozens of tweets. Create a video about the same topic. Give a talk at a networking meeting to discuss the same issue. Add a fact sheet to your website too. This way, you'll give out a consistent message to your prospects without confusing them with too many different messages.
So the next time you're wondering what would be the best way to promote your business, take a look at the content you're sending out and work on improving it in terms of quality and consistency.