Is your business growing as quickly as you'd like it to? Is it growing at all? Or has your business reached a plateau and you find that you just can't get past that certain number of clients?
All businesses need to grow, in order to survive. You might not be looking for massive growth, or for extremely fast growth, but you do need your business to grow. Clients will come and go, so you will need to replace them. The market will change, which means that you might need to change the services that you provide to your clients; or that you might need to look for different types of clients to work with. Your competitors can change what they're doing, which can lure your clients away to them, so you need to keep on your toes and watch what's going on. A stagnant business will not attract new clients or new challenges. Being complacent and happy to stay exactly where you are is dangerous too – trust me, I've learnt from making that mistake!
So why isn't your business growing as well as it could? Have you reached that plateau or that complacent place? Here are some of the main reasons that I believe prevent businesses from growing:
Look after your clients. Once you've spent time and energy working hard to bring in a new client, the hard work has only just begun. You need to look after each client and nurture them. You need to develop a strong relationship with each one, really understanding their business, their issues and their needs. Only then can you provide them with exactly the right service, which means that they will stay with you for the long term.
Sell to your clients. Too many service businesses spend time looking for new clients, forgetting that they could sell more to their existing clients. If you provide a monthly coaching service, why not offer a fortnightly service, thereby doubling what a client spends with you?
Watch the market. If you understand your market and you keep tabs on developments, you will be able to easily adapt to changes. When I set up Appletree in 2000, social media didn't exist. Now we help all our clients to use online marketing, whereas most of the work we did in the early days was off line. Use market changes to develop new services – an online course to teach what you know and share your expertise – and you will be able to reach a new market and new clients.
Watch your competitors. I believe that there is enough work for all of us, so I don't suggest that you spend too much time worrying about what your competitors are up to. However, it is useful to keep an eye on them. If they keep changing and reinventing themselves, the best thing that you can do is remain consistent in your service and your message. This really shows off your experience and longevity.
So those are some of the main reasons that cause businesses not to grow at the rate that they want. Could one of them be what's stopping you from growing?
In next week's blog I'll expand on the importance of consistency in the service you provide and the marketing that you do, to show you how to grow your business without too much hard work. Get in touch now if you'd like to know more by calling 01635 578 500 or click here to email me and I'll share some of the secrets with you straight away.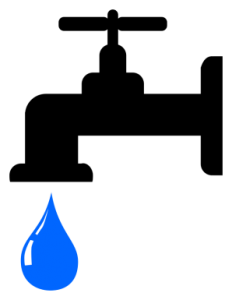 In last week's blog we looked at the problem that many services businesses struggle with – the problem of losing clients. Read that post again if this is something your business struggles with.
So how do you keep your clients and prevent them from leaking out of your business? How do you make sure that the time and money you're spending on marketing and finding new clients isn't wasted, when they leave sooner than you expected them to?
The answer is to keep in touch with your clients by giving them what they need and by showing that you really care about them. There are many ways in which you can keep in touch, including:
Email newsletters – every month I write a new issue of Scribbles and send it to my clients. In it I share useful information that they can use to promote their businesses. What knowledge can you share with your clients?
Blogs – every week I post a new blog onto the Appletree website. Each one looks at a different marketing tool, or problem that my clients might be facing. The blogs provide ideas to try out and solutions to those problems. What solutions can you offer to your clients' problems?
Social media – tools like Twitter and LinkedIn are great ways to give away snippets of advice to your clients. Your updates are also a good way to let your clients know what you're up to – what books you recommend or what you've learnt recently, that could help them. What good books have you read lately?
Videos – we recently interviewed one of our coaching clients as he shared his knowledge and expertise. We filmed his answers and the short videos will be made available to his clients, to keep them up to date with changes in legislation. What advice could you share on camera?
Workshops and talks – this month one of our consultancy clients is running a workshop for her clients, to let them know about recent Employment Law changes. They get to ask her lots of questions, and she gets to build up stronger relationships with her clients. What industry changes can you tell your clients about?
Keep in touch with your clients and show them, on a regular basis, how much you care about their businesses, by answering all their questions. When you do this, they will keep coming back to buy from you again and again; and they'll recommend you to potential clients too.
There's a lot to take in here and you might not have time to do everything that I've suggested above. To help, in next week's blog, we'll take a closer look at how you can use email newsletters to keep in touch with your clients and to keep them loyal. They are a simple, yet effective tool for keeping your clients. Need help right now? Click here to email me or call on 01635 578 500.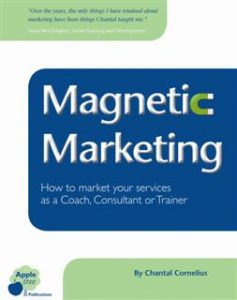 So you've set up your own business, because you want to spend your time doing what you love, helping the sort of clients that you want to work with. But is it going to plan? Or do you seem to spend more time chasing after potential clients? When they do turn into clients, are you doing the work that you really enjoy doing, getting paid what you want to be paid and being paid on time? If not, where did it all go wrong?
Many service businesses know that they should promote their businesses, in order to attract the right sort of clients. But they think that they have to chase after prospects and try to persuade them to become clients. They believe that they have to try all sorts of different marketing activities, until they find one that works. Or they think that they have to do the marketing that everyone else in their industry does. Are you one of these people? If so, stop struggling! There's no need to waste more money on your marketing, when there's a much simpler way to attract ideal clients to your business.
How do you do this? By doing something as simple as planning your marketing, instead of winging it!
Here is a process we use for helping our clients to plan their marketing and make a success of their business. It forms the structure of my book, Magnetic Marketing, and the new email course we'll be piloting from 1 May 2016, the Magnetic Marketing Course. Ask yourself these questions:
1. Situation – where are you now? You need to know what really makes you different from your competitors and why people buy from you rather than other businesses.
2. Objectives – where do you want to be? Set yourself short, medium and long term goals for your business, so that you know where your business is heading.
3. Strategy – how will you get there? Will you sell more of your existing services to existing clients, new services to existing clients, existing services to new clients or new services to new clients? Decide what you want to focus on, as each strategy needs different types of marketing.
4. Targets – who are your ideal clients? They are not everyone with a pulse and a credit card! You need to be specific so that your marketing is targeted to them.
5. Tactics – what is the best marketing to do? Don't try to do everything and don't do something that won't get your message to your ideal clients. Focus on a few good marketing tactics rather than many weaker ones.
6. Money – how much will your marketing cost? Work out how much you can afford to spend and stick to your budget.
7. Men & Women – who will do your marketing? Do you know what you're doing, or do you need help? Don't try to do it all  if you've never done marketing before. Look for people who can help you.
8. Minutes – how much time do you have for your marketing? Marketing is not an overnight, quick fix; you need to allow time for things to work and schedule it so that you can keep doing marketing every week, even when you're busy. Do you have time for some marketing every week?
9. Measurements – what will you measure in your marketing? You need to do more of the marketing that works and less of what doesn't work. The only way you'll know what's working is by measuring your marketing. Measure, review and refine your marketing.
Don't leave your marketing to chance. Create a plan to follow and you'll find it much easier to attract perfect clients to your business, instead of having to chase them. If you'd like some practical help with creating a Marketing Plan, why not join the Magnetic Marketing Course? Every week you'll receive an email full of resources and exercises for you to work through, taking you through the planning process in just nine weeks. Each week you'll be sent tips and ideas that you can put into practice straight away, which will start to make a difference to your business. The course costs just £99 +VAT and will be launched on Monday 9 May 2016. You can pre-register now and by clicking here. We look forward to seeing you on the course!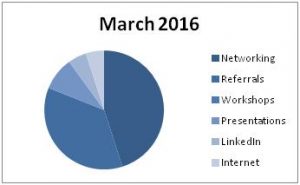 In last week's blog, we looked at the need to grow your business and what could be stopping you. Click here for a revisit to that blog. We looked at three reasons that might be preventing you from growing your business – not knowing how to do it, not understanding marketing, or just not wanting to do any marketing! In this blog, I'm going to give you some tips on how to deal with the first two issues.
"I don't know how to do marketing." If you've been in business for a while, or you have at least one client, the good news is that you're already doing some marketing – probably without even realising! How can this be? Well, if you have at least one client, then you must have done something to attract that client to you – even if you did it unconsciously.
There are certain marketing activities that are proven to work extremely well for service businesses. If you're a coach, a consultant or a trainer, then marketing tools that involve sharing your knowledge and experience with potential clients will always work better than just trying to sell your services to someone who has never heard of you. A prospect needs to trust you, before they will buy from you. This is why recommendations also work well if you run a service business.
My first rule of marketing is to find out what works best for you and to do more of it. So, look at each of the clients you currently have. How did they hear about you? If you don't know – ask them! Get into the habit of always asking a prospect how they heard of your business and then record that information somewhere. My database shows me that 36% of our current clients came from recommendations and a massive 54% came from networking or me speaking at events.
Where have your current clients come from? What marketing did it involve and how can you do more of it?
"I don't understand marketing!" Considering how many marketing tools are available to you, this is completely understandable. However, if you run a service business, where people pay you for your coaching time or your consulting expertise, then the marketing that will work for you should focus on sharing your knowledge with a wider audience. I know that I don't get any new clients directly from writing this blog, sending out my email newsletter or sharing tips @TopMarketingTip on Twitter. However, I know that using regular marketing tools such as these allow me to keep in touch with prospects who might first have met me at a networking event or have been referred to me.
My second rule of marketing is that that ad hoc marketing does not work. You need to keep doing whatever works in order to build up trust with your prospects.
What marketing can you do to keep in touch with an ever expanding audience of prospects?
In next week's blog we'll look at one of the best marketing tools that you can use to reach a wider audience and promote your coaching, consulting or training business to more potential clients. It's one that is actually quite easy to understand and one that, once you know how to do it, won't take up too much of your precious time! If you can't wait until next week, get in touch by calling me on 01635 578 500 or by clicking here to email me.
This is a statement that I hear quite frequently, from potential clients and from people I meet when I am out networking. Many coaches, consultants and trainers – and in fact anyone running a service business – all want to reach a wider audience, work with a larger number of clients and earn a better living from what they do. So what's stopping them from growing their business? What's stopping you from growing your business?
There are three reasons that I come across on a regular basis.
"I don't know how to do it." This is very understandable, unless you run some sort of marketing company! If you're an Accountant, you'll spend most of your time dealing with numbers and looking after the financial affairs of your clients. Coaches dedicate their time to helping their clients solve a huge variety of problems. If you're looking to grow your business, you do this by doing more paid work, so why spend time learning a new skill, such as marketing? I meet a lot of people who confess to not knowing how to promote their businesses properly and this is completely understandable.
"I don't understand marketing!" This is a very common complaint right now, especially in light of how much and how quickly marketing seems to change. When I first started out in marketing (over 20 years ago now!) there was no such thing as 'social media'. We relied on more 'traditional' methods of marketing, such as direct mail and exhibitions. If marketing isn't your field (because you spend your time consulting with or training your clients in your subject) then you could attempt to understand marketing by reading about it. There are numerous blogs (aside from this one!) that will tell you about marketing. There are thousands of websites and news feeds you can use. However, you will soon find that you read conflicting views from different 'experts'. How do you know who to believe? Even I find it tricky to know who to listen to sometimes, with so many people having an opinion about how marketing should be done these days.
"I don't want to do any marketing!" And why would you, when you've spent the last however many years developing your skills in your chosen field?! You're building a strong reputation for being an expert in your area, so why would you want to waste any time on marketing? You want to focus your time and energy on delivering the work for which you are paid – and that you love doing.
And yet you still want to grow your business! If you don't know how to do it, you don't understand the black art of marketing and you don't want to do it, how can you grow your business? How can you find more clients who are willing to pay you what you want to charge?
Don't worry – there is a solution! In next week's blog we'll look at how to reach a wider audience and promote your coaching, consulting or training business to more potential clients. I'll share with you some tips that will make marketing much easier to understand, so that you see how to use it more effectively to grow your business. If you can't wait until next week, get in touch by calling me on 01635 578 500 or by clicking here to email me.