Take Your Business on Tour!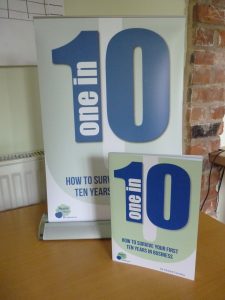 When Appletree turned 10 years old, I celebrated by writing a book full of the lessons I'd learnt, to help other small business owners avoid making the same mistakes. It took a few years to complete the book and publish it and the 'soft' launch was last year.
Starting on 1 October 2014, I'm taking my book on a grand tour of the UK, visiting dozens of cities up and down the length of the country. How will I manage this? Read on to find out and see how you can use this technique to promote your business – even if you haven't written a book yet!
My first Saturday job, at the age of 15, was in my local bookshop – The White Horse Bookshop in Marlborough, in Wiltshire. For someone who already loved reading and writing, it was an ideal place to spend time (and be paid!) My love of good literature and travel books grew in the four years that I worked there in my spare time and holidays. Tidying the Children's section was always fun, too!
Many years on and that book shop is still open and going strong. For this reason, I'm taking my new book on a tour of independent bookshops around the UK, to show my support for them and to tell the world about some of the creative marketing that they're doing. One in Ten is about finding the inspiration and motivation to keep growing a small business and I admire all the bookshop owners who are doing just that.
So how am I going to get round them all? Well, I have to confess that I'm going on a virtual book tour! I won't actually be visiting any of the shops in person, but I will 'appearing' at each one, online. Here's how I'm planning the tour, ready to launch on 1 October.
Are you on Twitter? I started by looking up independent bookshops on Twitter; they're quite easy to find. My plan was to 'visit' one a day, so I built a list of about 50 who are active on Twitter. If they hadn't tweeted for a few months I didn't follow them.
Can I find you on Facebook? Then I searched for my 50 bookshops on Facebook. The good ones have links from their Twitter pages directly to their Facebook pages and they made it through to the next stage of the list and earned a 'Like' on their pages.
What about your website? Despite being on Twitter and Facebook, a couple of the bookshops I was interested in didn't have websites, or had ones 'under construction', badly designed or infrequently updated. They didn't make it onto the final list.
The end result? A list of book shops that I can 'visit' every day in October.
The key to this tour and way of marketing my book is that I'm taking an integrated approach. When you can tie all your marketing activities together, you'll get much better results than individual, stand alone activities. In the same way, I'll be using Twitter (@TopMarketingTip), Facebook and my website to promote the tour.
So the next stage of the integrated approach was to create a marketing schedule that shows me where I'll be and when. I've put my selected book shops into the schedule and I've added in networking events where my book and I will actually appear. I've included a blog every week, to promote the tour and the book and details of other blogs that I'm guest writing, or where I'm being mentioned.
In addition to all this, in August I started to ask people who have already bought One in Ten to review it on Amazon. Those reviews will be featured in the tour, too.
Marketing doesn't work over night and it certainly doesn't happen without a bit of planning. I've spent the last couple of months planning this book tour, which means, that when it's launched today, it should really fly.
Why not come and join me along the way?!
In the A – Z of Marketing, X is for … Finding Your X Factor
To celebrate the forthcoming launch of my virtual book tour on 1 October, here is a section from the book for you to enjoy!
Running your own bu
siness can be very rewarding; it can also be extremely hard work. The small business market place is particularly crowded, with more and more people deciding to set up their own companies. If you've been made redundant, become frustrated with the long hours and expensive commute that leaves you no time for your family, or you just want to be your own boss, you might be one of these people. You're not alone. Almost 500,000 new businesses are formed in the UK every year, so you need to develop the strength to keep going, no matter what. The lure of working shorter hours can all too soon turn into very long hours just to keep afloat. The desire to have no one else to answer to means you actually have to cope with having no one else to talk to and no one to turn to for advice and support.
If your business is just you, you need to develop an even higher level of resilience and persistence, as you take responsibility for the entire business. You need to get really clear on your strengths, because they will keep you going and keep your business ahead of your competitors. You need to find your X Factor.
One of my clients, Elizabeth, wrote an issue of her newsletter about the importance finding your X Factor. She advised that one of the best ways to discover it is by asking other people. "So what is my X Factor?" I asked her. Her reply surprised me. "It's your drive, focus and ambition." It surprised me because I'd never associated myself with those words. In the previous section of this chapter I wrote about the importance of rewards and celebrations; acknowledging your strengths is just as vital and was something I didn't do very well before.
What is drive? Drive is what gets me out of bed in the morning. It's a desire to do something and get somewhere. You could also call it self-motivation. It's a vital ingredient required for running your own business, because unless you have an investor pushing you to grow your business and pay back their investment, you'll need to rely on your own drive. Unless you have a mortgage to pay, children or animals to feed, or holidays to take, you won't have the drive you need to really go places. A few years ago, the term 'lifestyle business' was coined. Some people love admitting to running a lifestyle business – one that earns them enough to live their lifestyle, a company that is just them and will probably just close when they retire or decide to move on. Other people take offence at being branded this way. They are the ones with the drive to do more with their businesses, be that building a company that can be sold or taking on staff and providing for their lifestyles.
What about focus? Without focus you lose your way in your life and your business. It's about having clear goals and targets to aim for. In 2006 when I first saw my new home, Appletree Cottage, it became my goal; I focused on it for the twelve months it took before we could move in and take on staff in the office in the garden. Then I lost my way for a while, as I didn't have another clear goal to aim for. Things changed when my new focus became reaching ten years of business. The way was lost again in 2010 when I put too much focus onto one project and took my eye off the main business, as you'll read in the final section of this chapter. Now my focus is very clear. We have monthly and annual targets for sales, profit, number of members of staff and days of holiday. Breaking the large, long term goals down into medium and short term ones gives us a really clear focus in the business, from one month to the next. The results speak for themselves as we hit each target!
Are you ambitious? Personally, I had never seen myself as ambitious, until Elizabeth identified my X Factor. Throughout my life I've been competitive, which could be considered similar. However, being competitive for me was actually about proving to other people that I was good at whatever I was doing – it was the physical proof I needed. Whether it was the number of staff I had working for me, the turnover of the business or the colour of the dressage rosette I won, it was always a comparison against someone else. I needed more staff, a higher turnover or an enhanced placing to show that I was better. Running a business that nearly fell apart twice – once because I worked so hard in an effort to prove how good I was and a second time because I would not consider 'failure' – has taught me the difference between being competitive and being ambitious. With the former you're always up against someone else; with the latter it feels like doing things for the right reasons. When I ran my first London Marathon I decided that I would run my own race. It was not about competing against anyone else on the day; it was about my ambition to finish in one piece.
So what's your X Factor? What core strengths do you have, that will help you succeed in your business? It might be just one main strength, or it may be a combination of a number of them. To find out what it is, ask the people who know you. Then write it down ? put it on the wall by your desk so that you can see it every day and remind yourself what it is that makes you and your business great. Your X Factor is what will keep you going when times get tough. It's what will help you build a great business.
Find your X Factor to keep your business going.
Don't You Just Love it When Your Clients Complain?
Do you look forward to receiving complaints from your clients, or do you cringe every time you answer the phone, in case there's an unhappy client at the other end? There's nothing wrong with hearing a complaint from a customer – unless you don't do anything about it.
Here's a true story that shows why you should embrace complaints and how best to deal with them.
Last spring a small Marketing Consultancy (let's call them Appletree) took on a new client (who we'll call Sue.) After an initial planning meeting, we agreed the work we would do every month for Sue's company. It was all set out in her Marketing Plan, showing what needed to be done every month. I handed the work over to my brilliant Account Manager, leaving her to liaise with the client and one of our freelance copywriters. And then I made mistake number one – I didn't check in with my Account Manager, to make sure she understood what I was expecting her to do, I just assumed that, as she was great at her job, she would know what I was expecting.
After the first three months, my Account Manager left to work for a bigger firm. That was when I looked at the account and realised that quite a lot of what should have been done, hadn't been done. My fault entirely for not carrying out a proper handover and for checking in more often. Sue also noticed that things weren't right and told me that she wasn't happy.
How did I handle her complaint? By apologising for not looking after her and arranging a meeting so we could talk about it. Speaking to an unhappy client face to face is a daunting prospect, but it was the best thing to do. By the end of the meeting, we'd agreed exactly what needed to be done to catch up on what we'd missed; and what we would do going forward. This included charging Sue a lower monthly fee and doing less work for her. Not ideal for my cash flow, but it suited her better and I knew that we could deliver the smaller work load to a high quality.
Everything settled down and Sue was happy for a while, until I handed her account to another member of staff. This time the briefing was thorough and everyone knew exactly what work was to be carried out, but there was a problem of personalities – they just didn't get on. I started to get a feeling that something wasn't right from listening to phone conversations and seeing the lack of progress on monthly work. As soon as I realised how serious the problem was, I called Sue. What followed was a fairly tricky phone call with my client, when I had to just shut up (difficult for me!) and listen to everything she had to say, but it was worth it. Listening to what an unhappy client has to say and then working out the best way to get them the result they want is essential. I didn't make excuses for the problems that had occurred or try to justify them; I just apologised and worked with Sue to get her the results she wanted.
The result? In the last month Sue has sent me two really great referrals and I've started working with one of them this month. She's really pleased with what we're doing for her, and proves it by recommending us to other people she knows. That's the best measure of how happy your clients are with your service.
So the next time you receive a customer complaint, how are you going to handle it, so that you can turn that client into a raving fan?!
In the A – Z of Marketing, V is for – Values
I hear a lot of people talk about their values and those of their business, they tell me that their values are things like 'honesty' and 'integrity', so I ask them what they mean by integrity and how they apply it to their business – and most of the time they can't. They just hear a lot of other people talking about integrity and think they should have some!
Your values are personal to you and to your business. You can't copy someone else, but you can use your values to stand apart from your competitors. When you can stick to your values, your actions will be more powerful than any marketing you can pay for.
Earlier this year we reviewed our values at Appletree and this is what we're about:
1. We get stuff done. Our clients trust us to set up and look after their marketing for them. Getting stuff done means that we don't tell clients what marketing to do and then expect them to do it on their own. We do things for our clients even before they have to ask us to do them!
2. We stick to what we're good at. Writing marketing copy is what we're really good at, so that's what we do. When clients need content for their website, material for their newsletters and blogs, or engaging copy for their tweets and social media updates, we can create it. Because we stick to what we know best, we can make sure that we provide our clients with top quality marketing solutions. If our clients ask for something we're not good at (even if we think we could make some money from doing it) we will find someone to do it who really knows how to do it well.
3. We give free advice freely. Our business has been built on helping anyone who asks about marketing. We treat everyone as if they're a paying client, so if people need advice, we look forward to them getting in touch and we'll do whatever we can to help. We love sharing our advice and experience in our blog, newsletter and tweets.
4. We're in it for the long haul. Appletree has been around since 2000. Since then, we've always done marketing. The business has changed as new marketing tools have been created – social media didn't even exist when we started – but we've been consistent in the marketing support that we've provided our clients. And we're going to carry on doing that!
So those are our core values – they are what drives our business and what keeps us in business.
What are your values? What's important to you? What do you stand for?
In the A ? Z of Marketing, U is for … Unique
What makes you different? What makes you stand out from all the other people who do exactly what you do?
I meet a lot of business owners who proudly tell me that they're different to their competitors. "How are you different?" I ask them. The answers I hear usually include phrases like 'providing value', 'building relationships', 'working in partnership with our clients'. And I just yawn. Why? Because I've heard it all before!
When you provide a service, it can be hard to distinguish your business from the others around you. Unless you compete on price and can say that you charge less than anyone else, you need to look for a better way to show potential clients why they should work with you instead of anyone else.
Here's something for you to think about.
Who are you?
If you run your own business, or you're the public face of the business where you work, you'll be meeting prospects and getting to know them. Have you noticed that you don't like everyone you meet, or that you don't 'click' with every single person you speak to? This is because we like people who are like us. We gravitate towards others who share our values and beliefs.
Like it or not, when services are involved, people really do buy from people. This means that some of your customers will buy from you, simply because of you. There will be other companies that can do exactly what you do, and possibly for less money, but if someone who is in the market for your service meets and likes you, you're in with a great chance.
How do you promote 'you'?
By being yourself! Be authentic and true to your values. Let people get to know the real you and the ones who you like will want to work with you.
What about the people with whom you don't click? Don't waste time chasing after them ? after all, why would you want to work with someone you don't like?!
How do you do what you do?
Once you've worked out how to promote 'you', think about how you do what you do. The way in which you deliver your service will be different to the ways that your competitors do it. For example, one of the things that makes Appletree different from the millions of other marketing companies out there, is that we get stuff done. We don't leave it to our clients to do all their marketing. We often receive calls from clients asking us to do something, to which we can reply "we've already done that for you." We like to be a step ahead of our clients, so they don't have to think about their marketing and can instead focus on doing what they do.
What makes your business different and how do you tell people about it?