How Do You Encourage Other People to Say Yes to Your Sales Proposal?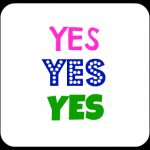 Last year one of my clients asked me to write a newsletter for him, about how to influence people and, in particular, about Cialdini's Six Principles of Influence. I did some research into the topic and wrote up the newsletter, based on helping my client's readers to do things like persuade their boss to say 'Yes' to giving them a pay rise. And it got me wondering "Could you use these principles when it comes to sales and marketing?"
I think the answer is yes, so here's how I think you can use Cialdini's Principles of Influence to win more sales and get more from your marketing.
If you don't already know about these Principles, here's an explanation of each of them, along with suggestions on how to put them into practice.
Reciprocity. Most people like to return favours, pay back debts and treat others as they are treated. According to the principle of reciprocity, this can lead us to feel obliged to help someone who has helped us. If you give a prospective client some advice for free, they are more likely to help you in return, or pay you the next time they need more help.
Commitment and Consistency. We tend to respond to consistency, so once you've committed to something; make sure that you go through with it. Use a consistent approach to your marketing – especially your key message – so that your commitment is obvious and you don't confuse prospects about what you do.
Social Proof. This is also known as 'safety in numbers'. People are more likely to do something if they see other people doing it. Tell potential clients how many other clients use your service, how many people will be attending your training course, or how many other people have bought a copy of your book to encourage them to sign up, book on or buy.
Liking. According to Cialdini, we're more likely to be influenced by people that we like. You have probably also noticed that you like working with people you like. So work on your likeability and promote your services only to people you like. Trying to sell to someone you don't like (and who therefore doesn't like or trust you and is not influenced by you) will just be an uphill struggle.
Authority. We feel a sense of duty or obligation to people in positions of authority. We see experts as people of authority, so make sure your marketing shows your expertise in your subject. Write about it and speak about it to show you are an authority on the subject and you will find that more prospects say 'Yes' to your sales proposal.
Scarcity. This principle says that things are more attractive when they have limited availability. Only 5 places left on this workshop. I only work with 10 clients at a time. "I'm too busy to take on any more clients right now" is one that works for me every time – even when I'm being serious!
How many of these Principles are you already using in your sales and marketing, without even realising?
A word of caution – be careful how you use the six Principles. It is too easy to use them to mislead or deceive people, to sell them something they don't need. Please don't let me hear of anyone doing that, as a result of reading this blog!
Use them wisely in your sales and marketing, for the good of your potential clients and you will find it much easier to encourage them to say "Yes!"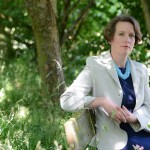 How to Use a Soft Start for Your Presentations
Many years ago, I learnt a very clever way of starting talks and presentations that I've been sharing ever since. It's called the ABCD of Introductions and it helps you make a great start and get over any nerves you might have at the start of a talk. You can read more about this approach in a newsletter that one of my clients wrote – and there's a link to a video about it too.
This approach works and is favoured by many speakers, as the A stands for Attention. It's about starting with a line that really grabs the attention of your audience. Controversial statements, questions and statistics all work very well.
However, for this approach to get you off to a great start, you need to plan your opening very carefully and thoroughly research your audience. I once saw an inexperienced speaker open with a question, to which she was expecting the majority of the audience to answer "Yes". When most of us answered "No" she became really flustered and didn't know quite what to do next. It didn't create a very good impression.
Recently I was introduced to a different way of opening a talk or presentation, by the very clever Tom Balmont. (You can meet Tom here.) Tom suggested opening with a 'soft start' rather than with an attention grabbing statement. This is a much more conversational way of opening your talk and works particularly well at networking events, where you might be introduced by someone who doesn't give you a proper introduction. Instead of leaping onto the stage (or space from which you'll speak) and wowing your audience with a stunning opening line, you can just walk on, say something welcoming and start engaging with your audience right from the start.
Let me give you some examples:
At a networking meeting one Friday morning, I had been asked to give a talk about how to survive the first 10 years in business. After a slightly mumbled introduction from the host, I walked and said "Good morning. Aren't you pleased it's Friday?" Almost the entire audience laughed and seemed to visibly relax. Then I was able to carry on with B, C and D of my opening.
At another talk I gave, this time about the top 10 marketing tactics that every business needs to use, I started by asking if everyone was sitting comfortably. This time, most of the audience laughed – and relaxed.
So the next time you're thinking about what to say at the start of your talk, will you take the 'hard' approach and hope that you get it right? Or will you give the 'soft' start a go and see how quickly you can engage your audience and make a great impression?
Where is Your Business Going in 2015?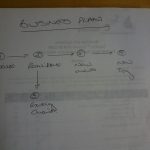 I know you'll already have read a lot by now about setting goals for 2015, about New Year's resolutions and about plans … and that's because this is still a good time to think about all of them!
So where is your business going this year? What goals have you set for your business?
At the start of 2014 I created a new Business Plan for Appletree. We nicknamed it 'The Napkin Business Plan' because it was so simple that I could (and did) draw it on a napkin! It outlined five stages that I was going to take the business through. Each stage had a number of activities that needed to be carried out before I moved onto the next one. I had to reach certain milestones – or goals – before the business would be ready for the next stage. Each stage also had specific marketing that needed to be done, in order to meet the goals. It gave our marketing a really clear focus, with clear targets.
Let me give you an example.
One stage of the Napkin Business Plan was called Recalibration. At the start of the year, I decided to focus the business on providing marketing content – something I always used to do, but had wandered away from. This meant that I needed to spend time talking to my existing clients, to make sure they were happy with my decision. The goal was to retain as many clients as wanted to receive the sort of service I wanted to provide. The marketing that needed to be done was about making contact with my clients – lots of phone calls and meetings with them to discuss the options.
The result? A couple of clients left us during the year, because they needed something different from the service we wanted to provide. And that was OK, as it left room for new clients to join us, who do want the service we want to provide. They have ended up being more fun to work with and more profitable!
Following the Napkin Business Plan helped make my business the most successful and profitable it has been for many years – proof that having goals and following a plan really does work.
Where is your business going this year?
What Do Your Clients Really Think of You?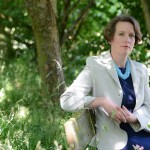 The Appletree Client Survey – Part One
When did you last ask your clients what they really think of you? Do you know why they use your services and what they like about what you do for them?
Too many businesses, especially large ones, provide a service that they think their clients want. They don't actually stop to find out if it's what their clients are looking for; and then they're surprised when clients leave them for someone else.
Small businesses have a distinct advantage over larger ones when it comes to talking to our customers. It's much easier for us to keep in touch with them and really get to know them as individuals. And yet how often do we ask our clients what they think of us? Not often enough. Why not? Because we might hear comments that we don't like! Clients may tell us what we don't want to hear. So it takes a certain amount of bravery to ask clients what they think and it needs to be done properly.
At the beginning of 2014, I started to carry out a survey, to find out what my clients thought of Appletree and the service they receive from us. I emailed a number of them, asking them a series of questions and asking that they reply by email. I emailed some others the same questions, telling them that I would call to go through the questions. And then something got in the way and I never got around to collecting the information from my clients!
This autumn I decided that, due to a number of changes that have happened at Appletree this year, I should carry out a proper survey. Having failed to do it on my own earlier in the year, I realised that I needed some help. So I found a great company who specialise in looking at customer experiences and they're carrying out the service for me.
The process we're going through is very interesting. We started by looking at the 'customer journey' that clients take, from the very first moment they meet me, through to becoming a client and receiving our ongoing marketing service. Think about booking a flight and all the interactions that you have with the airline – each time you come into contact with the company. You need to do the same for your business.  Working through this journey gave us a series of twelve questions to ask our clients. The questions cover a number of aspects including the initial meeting, the paperwork we send out, the speed and quality of our responses and the value they receive from each different aspect of our service. Our clients will also be asked how likely they are to recommend us, on a scale of 1-10 and why they give that particular response.
The way in which the survey is being carried out has been carefully thought out. Each of my clients will be contacted by phone, by someone who knows how to have proper conversations, rather than having to follow a script. Allowing people to talk about how they really feel will give us information that will be really valuable.
So that is part one of the story. I'll report back once the survey has been carried out, to let you know how we get on and what we're going to do with the results!
The Alternative 12 Days of Christmas – or 12 different ways to promote your business next year!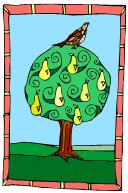 On the first day of Christmas my true love … –  so you think you know the rest?
Here are my alternative 12 days, to give you some ideas about how to promote your business.
On the first day of Christmas, my Marketing Consultant gave to me – A Partridge in an Appletree. This means that you need to stand out from the crowd by doing something different. Don't do the same as everyone and still expect to be noticed.
On the second day of January, my true love gave to me – Two Turtle Doves. Turtle doves are a symbol of love, so show your clients how much you love them. Treat them as you like to be treated and go the extra mile.
On the troisième day of Noel, my French teacher gave to me – Three French Hens. Speak English to your clients and in your marketing, not jargon. Don't assume that everyone understands what you're talking about.
On the fourth day of 4Networking the Group Leader gave to me – Four Calling Birds. Use your business cards as calling cards. Have them properly designed and printed; make sure they give new contacts enough information about you, so that they remember you after you've gone and so they can get in touch with you again.
On the fifth day of Christmas, BT gave to me – Five Gold Rings. Pick up the phone and call your clients. Don't rely on emails for conversations and don't wait until you have a reason to call. Give them a ring just to say hello and see how they're doing.
On the sixth day of Goosemas, my gander gave to me – Six Geese a Laying. Look after the goose (your best client) rather than chasing the golden eggs (the quick wins that take focus off your best clients.)
On the seventeenth day of maths class, my teacher gave to me – Seven Swans a Swimming. Swans are always serene above the water, even when they're paddling like crazy below. No matter what's going on in your business, act confidently; don't worry your clients with any problems beneath the surface.
On the eighth day of something, someone gave to me – Eight Maids a Milking. Milk your contacts! Who are you connected to on LinkedIn? Who do they know? Don't just sit and look at your contacts – do something with those someones!
On the ninth day of the social media course my Twitter feed gave to me – Nine Ladies Dancing. Building relationships with potential clients is like dancing; take the time to learn the moves and build strong partnerships.
On the tenth day of October my landlord gave to me – Ten Lords a leaping. Look before you leap; don't try out some marketing just because you think you have to, or because you think it might work. Get some advice first from someone who has already done it.
On the eleventh day of music school my conductor gave to me – Eleven Pipers Piping. Pipe down and listen to what your clients and prospects actually want from you!
On the last day of 2014 my New Year's revels gave to me – Twelve Drummers drumming. Make a big noise about your business because no one else will!
Have fun with your marketing in 2015!!