Massive Marketing Mistakes – Number Three: Chasing New Clients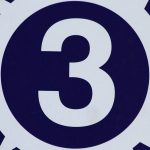 What's the third Massive Marketing Mistake that businesses make, which leaves them struggling to build the business they want? The first is not knowing where you are; the second is not knowing where you want to be. In this third blog in the series, we'll look at the problems caused by not knowing how to get there.
Massive Marketing Mistake Number Three – Chasing New Clients
You've successfully avoided the first Massive Marketing Mistake by working out what really makes your business stand out from the crowd. You've avoided the second one too, by setting your business some inspiring goals. Now you need to think about how you're realistically going to achieve your goals. Too many business owners invest too much of their limited time and budget into trying to take on new clients. Thinking that you need lots of new clients is a Massive Marketing Mistake!
There are four simple ways to grow your business, based on existing versus new clients; and existing versus new services, as you can see in this diagram. Always start with Strategy 1 before you jump into the other strategies.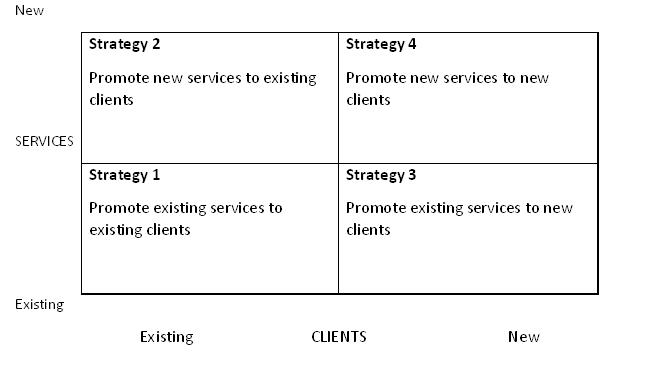 How do you avoid Massive Marketing Mistake Number Three?
Focus your business on looking after your existing clients rather than chasing new ones. Unless you have a completely new business that doesn't yet have any clients, you will have at least one. They are far more important than potential clients and can actually help you find new clients. Here's an example:
At Appletree we carried out a survey of our clients, towards the end of 2014. There are two other blogs that you can read here, to get the full story. We had this survey done in order to find out how we could improve our service to our existing clients. They were asked questions about how likely they would be to recommend us and what they would like us to do differently. We looked at the results and made some specific changes for each of the clients who took part in the survey. One client said she would like us to do something differently on her monthly Mentoring calls. So we did what she wanted, without making a song and dance about it. And the result? A wonderful, unprompted recommendation on LinkedIn from her! Look after your existing clients and not only are they likely to buy from you; they will also be more likely to recommend you.
What are you doing to look after your existing clients? How often do you surprise them by giving them more than they expect from you? What proportion of your Marketing Budget do you allocate to looking after your clients? (And if you don't have a budget, you're committing Massive Marketing Mistake Number Six!) Click here to tell us how you look after your clients.
Massive Marketing Mistakes – Number Two: No Business Goals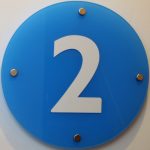 This is the second blog in a series looking at the biggest marketing mistakes people make when trying to run their own business. The first mistake is not knowing how your business is different to that of your competitors. You can read it again here.
Massive Marketing Mistake Number Two – No Business Goals
Avoid the first Massive Marketing Mistake by working out what really makes your business stand out from the crowd. This is your starting point, or where you are now. The second Massive Marketing Mistake that too many business owners make is not having clear goals for their business. They don't know where they want to go.
How often do you get into your car and just drive? Where do you end up? Do you get to where you wanted to go, or do you just go for a nice drive in the countryside? If your business is just about having a 'nice drive' then it's fine to meander along without following a map. However, if you want to build a business that earns you the sort of income that you deserve to earn, without working seven days a week and more hours than is good for you, then you need a goal – a destination.
How do you avoid the second Massive Marketing Mistake?
Decide where you want to go! This could be the number of clients you want to work with. It could be the amount of turnover or profit margin that you want to achieve. It could be the number of staff you employ. Whatever your goal, if you run your own business, then the goal needs to inspire you. Don't let someone else dictate your goal – it has to be relevant to you. Knowing your goals will help you plan the most appropriate, cost effective marketing to help you reach them. Here's an example:
One of our clients would like to retire in a few years' time. His wife is already retired and is enjoying spending time with their grandchildren – and he'd like to do the same. He's not looking for vast numbers of new clients, as his business is ticking over nicely. This means that he doesn't need to spend a huge amount of money on marketing that will attract new business. Instead, his marketing is focussed on keeping in touch with his existing clients and looking after them.
What are you goals for your business, for the next month, six months, year and five years? Spend some time thinking about your long term goals (e.g. 5-10 years) and then break them down into more manageable, short term goals (e.g. 1, 6 or 12 months.) Click here if you'd like to share your goals with us.
The third Massive Marketing Mistake is spending too much time chasing after new clients, instead of looking after your existing ones. We'll show you how to avoid this Massive Mistake in the next blog in the series.
Showing you how to avoid these Massive Marketing Mistakes is something we work with our Marketing Mentoring clients.  To find out more about the current offer, click here.
Massive Marketing Mistakes – Number One: Being the Same as Everyone Else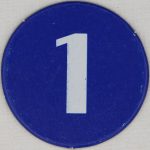 Over the years I've met many people who are new in business and are struggling to get going. They are finding the first few years really tough and are wondering when it will get easier. I've also met a large number of people who have been running their own businesses for a number of years – sometimes more than 10 years – who are struggling to keep going.
When I look closely at the problems that both these sets of businesses have, I see some real similarities. In fact, I think there are nine marketing mistakes that the new businesses and the more established ones are making. These mistakes prevent you from enjoying the freedom that running your own business is supposed to bring you. I have built these nine mistakes (or rather the results of avoiding them) into a clever process that you can apply, in order to build the business you want – one that isn't struggling to survive! I will write a blog about each of the stages for you to follow.
Massive Marketing Mistake Number One – Being the Same as Everyone Else
In order to win business, you need to stand out from the crowd. To do this, you need to show potential clients why your business is different from your competitors.
I've lost count of the number of times I've heard business owners say "My business is different because we're the cheapest/best/most unique." You can't all be the cheapest or the best or the most unique!
Too many businesses don't put enough effort into working out what really makes them different. You've probably heard of USPs – Unique Selling Propositions – and you might even have yours written down somewhere. But does it really show potential clients how you can help them better than another business? Does it connect with their emotions? We all make emotional decisions about what to buy and who to buy it from – not rational decisions. You need to know how your service helps people on an emotional level.
How do you avoid the first Massive Marketing Mistake?
Work out what really makes your business different – your Emotional USP (eUSP). There are six eUSPs and you can find out more about them in this blog. Have a read and decide which is yours; then think about how to use that information in all your marketing messages. Here's an example:
At Appletree we used to think that clients worked with us because marketing was a fun, exciting thing that they wanted to do. Wrong! Most of our clients don't want to worry about their marketing – they just want to have it done for them, so that they can get on doing what they get paid for. They want the certainty of knowing that their marketing will be done, building their reputation and bringing them new clients. At first we thought that Certainty was a rather dull eUSP to have, until we started explaining to prospects that they could trust us to just get on with it. Now we have a reputation for 'done for you' marketing. "Just make it happen" is a request we often hear from our clients.
So what really makes your business different? What is your emotional USP? Knowing it is a real foundation stone for a successful business. Get in touch to tell us, or to let us know if you need help working out your eUSP and how to use it.
The second Massive Marketing Mistake is having no goals for your business. If your eUSP is your starting point – where you are now in your business – your goals are where you are going. In the next blog in this series, we'll look at how to build your goals from your USP and take your business to the next level.
How To Get Recommendations – Find Out What Your Clients Don't Like About Your Service!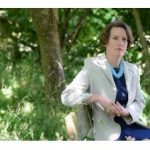 The Appletree Client Survey – Part Two
In December I wrote about how we commissioned a client survey, to find out what our clients really think of our service. You can read Part One here. The second stage of the survey was to look at the results and the comments we received. After all, there's no point in carrying out a survey if you don't do anything with the information you collect.
First we looked at the overall scores we received. A question that all the participants were asked was "How likely are you to recommend Appletree?" On a scale of 1 to 10 (where 1 = 'not a chance so don't bother asking' and 10 = 'absolutely, definitely, of course!') we scored an average of 8.7. That was a really nice number to see, but there's no point in being complacent and ignoring the individual scores. I started by looking at the 6s we received, to see what needed to be done to increase those scores and give those clients a better service. They all have different needs. Many of our clients commented on how they appreciate our flexible, bespoke approach, so we've applied that to sorting out their specific issues. This is work in progress – something I will focus on for these clients over the coming months.
Then I looked at the comments made by the clients who scored us 8, 9 and 10. Again, we're not allowing ourselves to become complacent. Just because a client is very keen to recommend us, does not mean that there's nothing we can do to improve the service they receive from us. One particular client, who gave us a score of 10 made some specific comments about the mentoring service he receives from us. He said there was something he'd like me to do differently on our monthly calls. So the next time we had a call, after the survey had been completed, I did what he wanted me to do! I didn't say "You said in our survey that you want me to do this so …" I just did it. What he wanted from me actually made a lot of sense and was simple to do. We ended the call and he thanked me for my time and support.
Two days later I received a really lovely recommendation from this client on LinkedIn. I didn't ask him to write it for me. I didn't make any suggestion that he might like to recommend me. He just did it. Why did he do this? I think it was as a result of a) giving him the help he expects and pays for on his mentoring calls and b) listening to his views and actually acting on them!
If you'd like to get more genuine recommendations from your clients, why not ask them what they don't like about your service – and then do something about it?!
Why Do We Use Social Media?
In January I joined one of my clients at their quarterly Staff Meeting. Usually this is when they all get together to share the successes of the recent quarter, award a few prizes for great performance and a enjoy a really nice curry. For the January meeting, they asked me to join them, to tell them a bit about the social media work we do for them and explain the how and why of it.
This company has a number of staff spread across a number of different offices, so I hadn't met most of them. I meet a select few at our quarterly Marketing Meetings. At one meeting last year, I realised that many of the staff didn't really know how we were using social media to promote their business.
To show them properly, I put together a few slides. The first one included this clever graphic that shows just how many people are using social media these days. One thing it shows is that nearly half the people on this planet are using social media through some sort of mobile device! That's a huge potential audience you could be speaking to.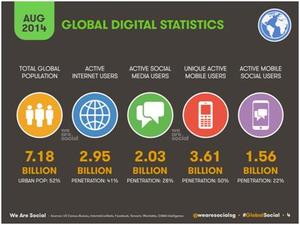 How do you decide which social media to use?
For this particular client, we focus on Facebook and Twitter. Why? Because we've looked at where their referrers and potential clients 'hang out'. I was really pleased to see this next graphic, which shows that Facebook and Twitter are still the most used social media platforms! Showing the image to the boss at my client's company also reinforced what I've been saying to him for a while – that we need to look next at how to use Google+ and LinkedIn to promote the business.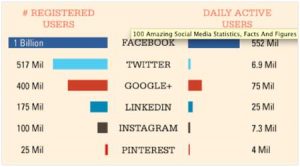 Sparking ideas
The next thing I did was show the team some of their best performing tweets and Facebook updates. I asked them why they thought those updates had received the highest number of likes, retweets and favourites. It was good to hear a unanimous answer of "It's about the people." This client provides a very personal service to their clients and they need to build a high level of trust.
Every week we post updates about the service available to their clients. This conversation sparked a huge number of ideas around all the other details we could share – everything that will help their potential clients get to know and trust them. All of sudden, we had members of the team volunteering ideas and information we could use in their social media. In the past, getting anything useful out of most of them had been a real challenge.
By the end of the evening, we had a really engaged team of people. They all had a much better understanding of their social media and were all really keen to get involved. Which makes my job much easier!