Archive for the 'Customer Service' Category

What's the Best Way to Get Referrals? By Saying Thank You!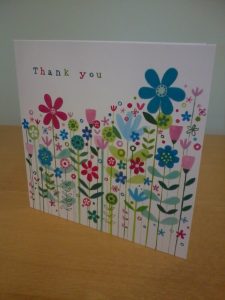 I keep hearing people talk about 'referral strategies' and a number of my clients have asked me recently about whether or not they should set up 'referral partnerships'. There are lots of different ways to generate referrals in your business, depending on what you want to achieve. I have to admit that I don't have a strategy or any referral partners, but two of my largest new clients have come about this year through referrals. (In all, over half of my new business comes from referrals.) I'm going to tell you the story of how I have found some new clients this year, to encourage you to look at how you can easily generate more referrals for your business.
A few months ago, my client Sue asked me if I would speak to one of her contacts, who needed some marketing help. She told me a bit about this person and her business, and at the time, I didn't think I would be able to help her – it wasn't really my area. However, I agreed to see her and gave her what advice I could. As she didn't actually want to spend any money on promoting her business, as I suspected, I wasn't able to help her beyond that. However, I sent Sue a handwritten card to and thank her for the referral.
A little while later, Sue introduced me to Tamara, who she had met at a networking event. Tamara was looking for marketing support for her new book, so we met up to talk about it. I sent Sue another thank you card, because it doesn't take long to do and doesn't cost much. At my me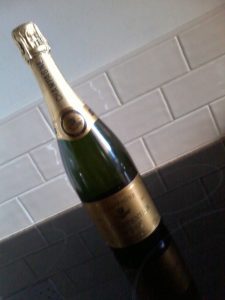 eting with Tamara she asked me to provide her with marketing help for six months, so to thank Sue properly, I sent her a bottle of champagne. I wanted to send something that I knew Sue would enjoy and that would properly show my appreciation. The email she sent to thank me for the bubbly made me laugh, because she said I was very naughty to have sent it, but she loved it!
A couple of months later, Sue asked me to speak to yet another one of her contacts. She did it with the caveat that if it turned into more work for me, I was to promise that I would still look after Sue and provide her with the high level of support she expected. I went to meet Don and his business partners, and at that meeting, they booked me to spend a full day with them, to help them prepare a Marketing Strategy for the coming year. That piece of work alone is worth more than many of my other clients spend with me over six months, so this time I wanted to send something to Sue that reflected that value. A case of champagne? Tickets to the theatre? I wasn't sure what she would like most, so I called her business partner and asked him. "You won't go wrong with John Lewis vouchers," Graham told me. So a £100 John Lewis gift voucher was sent to Sue. This time, her reply email told me how she's returned home from a tough day to find a handwritten envelope with the most wonderful surprise inside, which turned her day around! Don and his partners have since asked me to provide them with an ongoing marketing support service – they are now one of my biggest clients.
And all that came because I sent one simple thank you card for a small referral that didn't even turn into work!
When was the last time you properly said thank you for a referral? What will you send the next time you receive one?
Don't You Just Love it When Your Clients Complain?
Do you look forward to receiving complaints from your clients, or do you cringe every time you answer the phone, in case there's an unhappy client at the other end? There's nothing wrong with hearing a complaint from a customer – unless you don't do anything about it.
Here's a true story that shows why you should embrace complaints and how best to deal with them.
Last spring a small Marketing Consultancy (let's call them Appletree) took on a new client (who we'll call Sue.) After an initial planning meeting, we agreed the work we would do every month for Sue's company. It was all set out in her Marketing Plan, showing what needed to be done every month. I handed the work over to my brilliant Account Manager, leaving her to liaise with the client and one of our freelance copywriters. And then I made mistake number one – I didn't check in with my Account Manager, to make sure she understood what I was expecting her to do, I just assumed that, as she was great at her job, she would know what I was expecting.
After the first three months, my Account Manager left to work for a bigger firm. That was when I looked at the account and realised that quite a lot of what should have been done, hadn't been done. My fault entirely for not carrying out a proper handover and for checking in more often. Sue also noticed that things weren't right and told me that she wasn't happy.
How did I handle her complaint? By apologising for not looking after her and arranging a meeting so we could talk about it. Speaking to an unhappy client face to face is a daunting prospect, but it was the best thing to do. By the end of the meeting, we'd agreed exactly what needed to be done to catch up on what we'd missed; and what we would do going forward. This included charging Sue a lower monthly fee and doing less work for her. Not ideal for my cash flow, but it suited her better and I knew that we could deliver the smaller work load to a high quality.
Everything settled down and Sue was happy for a while, until I handed her account to another member of staff. This time the briefing was thorough and everyone knew exactly what work was to be carried out, but there was a problem of personalities – they just didn't get on. I started to get a feeling that something wasn't right from listening to phone conversations and seeing the lack of progress on monthly work. As soon as I realised how serious the problem was, I called Sue. What followed was a fairly tricky phone call with my client, when I had to just shut up (difficult for me!) and listen to everything she had to say, but it was worth it. Listening to what an unhappy client has to say and then working out the best way to get them the result they want is essential. I didn't make excuses for the problems that had occurred or try to justify them; I just apologised and worked with Sue to get her the results she wanted.
The result? In the last month Sue has sent me two really great referrals and I've started working with one of them this month. She's really pleased with what we're doing for her, and proves it by recommending us to other people she knows. That's the best measure of how happy your clients are with your service.
So the next time you receive a customer complaint, how are you going to handle it, so that you can turn that client into a raving fan?!

In the A – Z of Marketing, S is for – Service (both types!)
What do I mean by both of them? I mean the service that you sell and the service you provide. Still confused?
Firstly the service you sell. If you sell a service, rather than a product, there are specific ways to promote what you do that are different to how to you promote a product. With products you can touch them, see them and compare them to others. This computer is smaller than that one; it's faster and costs less. The other one comes in a range of colours but costs a lot more. If you know what you want from the computer you're going to buy, you can look at what's available and make your choice. Marketing for products can include images and simple ways to buy.
But you can't do the same with a service. If you're a coach, a trainer or any sort of consultant, you're selling your time and experience. How do you show your potential clients what that looks like? How do you persuade them to part with their money before they really know what sort of results they're going to get? By showing them what you can do and giving them a taste of how you can help them. Write about what you do and share your expertise in a newsletter, blog or ebook. Give talks at networking events to allow people experience you in action.
I recently started working with a Virtual Assistant to help with all our admin. The person I decided to work with was Hannah at Amethyst PA. Why Hannah? Because I've met her a number of times at networking events and whenever I've asked her for advice on something admin related, she's happily given me the answer, without asking for anything in return. She also writes good blogs that are full of advice – check them out at http://amethystpa.co.uk/category/blog/. She demonstrated her service to me and gave me the confidence to work with her.
Then there's the service you provide. This is how you deliver what you do and the way in which you look after your clients. Do you listen to what they want and provide exactly the right service? Or do you ignore their comments and complains?
Recently I ordered a table top banner to help me promote my second book. I sent off a pdf file of the cover, to be used on the banner. I agreed to the cost and asked for it to be delivered, to save me driving 30 miles to collect it. When it arrived, the colours weren't as bright as the colours on my book cover; and I was surprised that it had been delivered by the postman, rather than the courier I thought I'd paid for. So when the company from whom I ordered the banner emailed to ask for feedback on my recent purchase, I didn't hold back. And I received a phone call from them 20 minutes later! That impressed me. What impressed me even more was when they offered to create a brand new banner for me, with better colours. Now that is great service!
Can you spot the difference between my book and the original banner?!
How do you promote your service? And once you've won a new client, how do you give them a service that delights them?
In the A – Z of Marketing, R is for – Referrals
R could be about Reputation, Relationships or Regular Marketing. They are all important and I've written about all of them recently, so I decided to focus this blog on Referrals.
Referrals are a brilliant way to find new clients and grow your business. They are a very low cost way of marketing and usually have a high conversion rate. Some people advocate a 'referral system' that you plan out and follow. I'm sure that some of these systems work, but here's my take on a more relaxed and equally effective take on getting referrals.
What's the best way to get referrals? Give them!
If you turn up at networking meetings expecting to receive a steady flow of referrals, you'll be disappointed. For someone to refer you to someone they know, first they have to trust you. After all, why would they recommend someone who might not do a good job? That would look bad on them. So to start getting referrals, start giving them. Listen to what help people are asking for and think about who you can put them in touch with. Who do you know who is looking for what they offer? Think about who you can introduce them to. This will help you build up a relationship with the people you meet, showing them that you're trustworthy enough to be recommended.
When is the best time to ask for a referral? When someone says "Thank you?"
You've just had a great meeting with one of your clients, when you helped them with all sorts of issues. At the end of the meeting they say "Thank you so much for your help; I really appreciate it." You could just gracefully reply "You're very welcome." Or you could add on – " and who else do you know who might need the same sort of help?"
When someone has thanked you for your help, they are seeing you in the best light. This is when they will be the most open to thinking of other people to whom they could recommend you. It also works with prospects. I often spend time on the phone or at networking meetings providing free advice to people who aren't my clients. When they say "Thank you" I ask who else they know who I can help. And it works!
What should you do with every referral? Say thank you properly!
A few months ago, Lucy contacted me, asking for some marketing help. She told me that Pete had recommended me to her. Pete is someone I've met at a few networking events, but we've not done any work together. I arranged to meet with Lucy and to thank Pete properly, I sent him a thank you card. I put a personal note in the card and posted it to him.
A few days later Pete phoned me to say thank you for the thank you card! He'd never received one before and was really touched by it. About a month later Pete called me and asked for my help with his marketing! We haven't done the deal yet, but I know that Pete will continue to recommend me to people who he meets.
So, to generate a bigger flow of referrals into your business, give more, ask at the right time and then say thank you. Of course, keeping in touch with people helps keep you in their minds, which also helps. Combine all these tips and you'll be able to grow your business through referrals.
How much of your new business comes through referrals? What do you do to increase that number?
This Month's Appletree Award for Customer Service goes to …
… the NHS! Yes, I'm being serious!
In particular the award goes to three people who were working at   Basingstoke Hospital earlier this month, for going beyond the cause of duty and really looking after the people in their care.
First there is Leah, a student nurse who works twelve hour shifts. She's on her feet nearly all day, doing whatever is asked of her. Being the least qualified person on the ward, she has to do all sorts of jobs that other people might not want to do. But she does it all with a smile. And when you've come back from surgery having missed supper, she's the one who dashes off to find you something to eat before the kitchen shuts for the night, rather than leaving you hungry.
Next is the nurse whose name I don't actually know. She's the one who wakes you up every hour during the night to check your blood pressure, post op, and who apologises for doing it. Without these regular checks, problems could go unnoticed, so they have to be done. At 5.30am when everyone else on the ward was asleep, this lovely nurse is the one who brings you a mug of tea and some biscuits, almost to say sorry for disturbing you and for doing her job.
Finally there is Paul, the nurse who comes into the ward in the morning and makes everyone laugh, no matter how they are feeling. He helps people get dressed, he picks things up that patients drop and can't reach and he even finds felt pens so that patients can write on other patients' plaster casts!
All these people have busy jobs to do and yet they do them with a smile and with compassion. They do things that are not in their job description, because they know it will help one of their 'clients'. They make their 'clients' feel special and cared for. And that's why they get this month's Appletree Award for Customer Service.
How can you make your clients feel special and cared for? What can you do that goes beyond what they expect of you?