Archive for the 'Customer Service' Category
How Can You Use Authentic Marketing To Grow Your Business?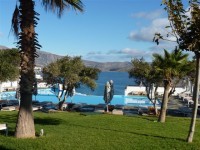 So far, 2014 has been a really good year for Appletree. In fact, in terms of profitability, it has been the best year in all the 14 years that the business has been running. Our turnover has not been as high as in previous years, but our profit margin has been up and my stress levels have been down. There have been times when I have turned away potential clients, because I've been too busy looking after my existing ones.
Why is this? Why has this year been so great and what secrets can I share with you? I sat and pondered these questions while on holiday in Crete at the end of October, so this blog is the result of that pondering.
What is Authentic Marketing?
I think there are four lessons I want to share with you.
What are you really good at?
It all started towards the end of 2013, when I realised that I had too many people in my business. For some time I had been trying to grow Appletree, by taking on more clients and more projects; and therefore by taking on more staff to do the work. However, I noticed that I was allowing the business to drift away from what we're really good it – providing marketing content for clients and getting their marketing done for them. And eventually I accepted that I'm not very good at managing staff! So unfortunately for a couple of lovely people, 2014 was the year that heads rolled and Appletree went back to being just me again. And I love writing marketing content, so that's what I've been focusing on.
When you're completely clear on what you do, networking is much easier and it makes it simple for people to recommend you.
What do you clients expect from you?
In February this year, I found myself unable to go networking or go chasing after new clients (all thanks to an unfortunate event on a ski slope.) I love selling and I love the buzz of taking on a new client. However, sitting in my office for a whole month, I realised that I really needed to focus on looking after my existing clients. They expect us to get their marketing done for them and they will often phone to ask for something to be carried out, only for us to tell them we've already done it. They rely on us for new ideas, marketing inspiration and expertise.
There are only so many hours in the day, so if you're not careful, you'll end up spreading yourself too thin. Or you can concentrate on looking after the lovely clients you have – which will actually save you a fortune in networking fees and petrol!
What can you give?
One day in the autumn, a nice lady approached me at networking event. "We've met at a few of these meetings," she reminded me. "And while we've never really talked about what you do, you've been really helpful and I've decided that I'd like you to do my marketing for me."
How's that for an easy sale?! My approach to marketing Appletree has always been with the spirit of generosity. If you have a question about marketing, ask it and I will do my best to answer it for you. No fee. No ties. If I don't know the answer, I'll find out, or I'll point you towards someone who can help you. (Seriously, if you have a question, click here to email it to me!)
When one of my clients calls to ask if I can make a quick change to their website, or look over an article they've drafted, the answer is always "Yes, of course." It is never "Yes and I'll charge you for my time." And it never will be.
The time you put into networking, the talks and presentations you give, the newsletters, blogs and tweets you write should all be about sharing what you know. The resulting flow of new clients will speak for itself.
What are you REALLY good at?
I know that business can be tough. Mine has certainly had its up and downs in the last 14 years. I've tried a few different ways to energise the business and to make money, but these alternatives have always been in line with what I know – marketing. I would never consider going off at a major tangent or setting up a side line just in the hope of making a fast buck. Why not? Because I believe this confuses your market. If times are tough, you have to adapt and flex and change and look for ways in which you can still provide your clients with a service that you understand.
Build on your expertise and become more of an expert than your competitor who wanders off in search of an easy win.
The four lessons above are based on the four core values of Appletree. When you're true to your values, marketing actually becomes really easy. When you focus on being authentic, clients will come to you.
What are your core values and how can you use them for authentic marketing?
Is it Too Early to Book Your Christmas Party?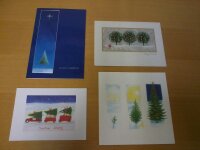 In July this year I ordered the Appletree Christmas cards. Did I do it because I just can't wait for Christmas to come? No. I did it because we have a plan for our marketing, which allows us to make the most of our budget and not miss any opportunities.
This blog is not about Christmas parties – sorry! It's about how to plan ahead so you make the most of the opportunities that come your way, without costing you a fortune.
Here are a couple of good reasons to plan ahead with your marketing.
Christmas is coming – eventually
In July the Christmas card catalogue dropped through the letter box. Instead of chucking it into the recycling bin and trying not to think of anything festive until November, I went through the catalogue and picked my favourite design. Then I looked at my database and counted up the number of clients, suppliers and hot prospects to whom I want to send a card this year. That showed exactly how many cards I needed to buy and I placed the order straight away, so that I didn't forget about doing it. The cards were delivered a couple of weeks later and they'll sit in the cupboard until November.
Why did I order the cards so early? Because the company from whom I buy them offers a generous discount of 20% if you get your order in before the end of August. That's a really nice saving! The other reason for ordering so early, is because I hand write all the envelopes and write personal notes into every one. I sign them and then stick stamps on, ready to go into the post box in the first week in December. That way, they reach Appletree's friends and colleagues in plenty of time to be enjoyed.
I can make the most of the early bird discount, because I have a database of contacts. I keep it up to date all through the year, with all sorts of details, including who I'd like to send a Christmas card to. That way, when it comes to early bird ordering time, I can get the order in easily and get the discount.
Planning ahead with your marketing means that you can save money and grab good opportunities.
Marketing magic
I'm working on new talk to deliver at networking meetings. It will be a clever mix of marketing and magic while giving real value to the audience. I started thinking about the talk a couple of months ago and am booking dates to deliver it – but not until 2015.
Why wait? Because this particular talk will require quite a lot of rehearsal before I'm happy to go public with it. The content is fine – I know what I'm doing with that – it's the 'magic' part that needs work. And that's all I'm going to say about it.
Another reason for waiting is because many networking groups book speakers well in advance. Approaching organisers and asking for dates next year is getting me a much better response that trying to fit in a few events between now and the end of the year.
And the final reason for waiting? The more notice you have, the more you can to do promote the events – and the more the network group organiser can do too. Bigger audiences are much more fun!
So what's in your Marketing Plan for the rest of this year? How is your Plan looking for next year? How will it help you save money and get better results?
Stocking Fillers
If you like doing your Christmas shopping well in advance, here's a great little stocking filler.
One in Ten – my second book is all about how to find the inspiration to start your own business and then find the motivation to keep you going. It's full of real life examples of mistakes to avoid and tips to help you keep going in business. It's currently just £10 + postage if you buy it here.
How Well Do You Know Your Clients? And How Important is it That You Do?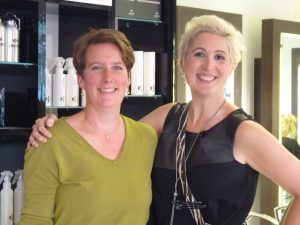 The last time I went to the hairdresser, I sat down and complained "My hair just isn't working! It's only been five weeks since I last had it cut; usually it lasts for eight weeks. Something isn't right."
I've been going to the same hairdresser for a couple of years. Why? Because Lou at Electric Hair now knows me really well – and she knows my hair really well! "Don't worry, I know exactly what to do," Lou reassured me.
Once my hair had been washed, Lou set to work. And then she told me why I was having a problem with my hair. A few months before, I'd cancelled my regular appointment with Lou, because I was on crutches and couldn't get into Oxford, to Lou's salon. Even if I had made it to her, there was no way I could have made it up her steep stairs. So, instead I arranged for a friend to drive me to a local salon to have my hair done there. I thought they'd done an OK job, but Lou hadn't been that impressed. "Now I have to sort out the damage they did all those months ago," she told me.
I was amazed that Lou remembered that I'd been somewhere else to have my hair cut. "That's why my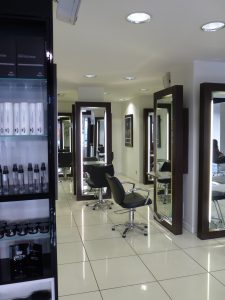 clients stay with me," she said "Because I get to know them and what they want. And if they do ever go somewhere else, I have to sort out the mess left by someone who doesn't know them like I do!"
The end result? A hair cut that works and will last as long as I need it to! And a happy client for Lou, who has booked her next appointment and will keep going back. And a happy client who keeps recommending Lou and Electric Hair to everyone!

What's the Best Way to Get Referrals? By Saying Thank You!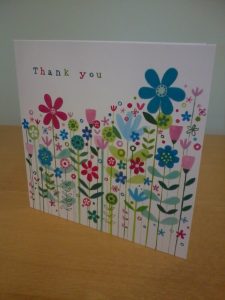 I keep hearing people talk about 'referral strategies' and a number of my clients have asked me recently about whether or not they should set up 'referral partnerships'. There are lots of different ways to generate referrals in your business, depending on what you want to achieve. I have to admit that I don't have a strategy or any referral partners, but two of my largest new clients have come about this year through referrals. (In all, over half of my new business comes from referrals.) I'm going to tell you the story of how I have found some new clients this year, to encourage you to look at how you can easily generate more referrals for your business.
A few months ago, my client Sue asked me if I would speak to one of her contacts, who needed some marketing help. She told me a bit about this person and her business, and at the time, I didn't think I would be able to help her – it wasn't really my area. However, I agreed to see her and gave her what advice I could. As she didn't actually want to spend any money on promoting her business, as I suspected, I wasn't able to help her beyond that. However, I sent Sue a handwritten card to and thank her for the referral.
A little while later, Sue introduced me to Tamara, who she had met at a networking event. Tamara was looking for marketing support for her new book, so we met up to talk about it. I sent Sue another thank you card, because it doesn't take long to do and doesn't cost much. At my me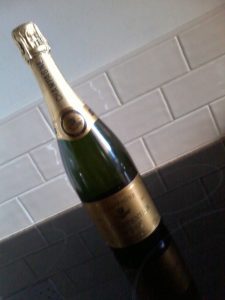 eting with Tamara she asked me to provide her with marketing help for six months, so to thank Sue properly, I sent her a bottle of champagne. I wanted to send something that I knew Sue would enjoy and that would properly show my appreciation. The email she sent to thank me for the bubbly made me laugh, because she said I was very naughty to have sent it, but she loved it!
A couple of months later, Sue asked me to speak to yet another one of her contacts. She did it with the caveat that if it turned into more work for me, I was to promise that I would still look after Sue and provide her with the high level of support she expected. I went to meet Don and his business partners, and at that meeting, they booked me to spend a full day with them, to help them prepare a Marketing Strategy for the coming year. That piece of work alone is worth more than many of my other clients spend with me over six months, so this time I wanted to send something to Sue that reflected that value. A case of champagne? Tickets to the theatre? I wasn't sure what she would like most, so I called her business partner and asked him. "You won't go wrong with John Lewis vouchers," Graham told me. So a £100 John Lewis gift voucher was sent to Sue. This time, her reply email told me how she's returned home from a tough day to find a handwritten envelope with the most wonderful surprise inside, which turned her day around! Don and his partners have since asked me to provide them with an ongoing marketing support service – they are now one of my biggest clients.
And all that came because I sent one simple thank you card for a small referral that didn't even turn into work!
When was the last time you properly said thank you for a referral? What will you send the next time you receive one?
Don't You Just Love it When Your Clients Complain?
Do you look forward to receiving complaints from your clients, or do you cringe every time you answer the phone, in case there's an unhappy client at the other end? There's nothing wrong with hearing a complaint from a customer – unless you don't do anything about it.
Here's a true story that shows why you should embrace complaints and how best to deal with them.
Last spring a small Marketing Consultancy (let's call them Appletree) took on a new client (who we'll call Sue.) After an initial planning meeting, we agreed the work we would do every month for Sue's company. It was all set out in her Marketing Plan, showing what needed to be done every month. I handed the work over to my brilliant Account Manager, leaving her to liaise with the client and one of our freelance copywriters. And then I made mistake number one – I didn't check in with my Account Manager, to make sure she understood what I was expecting her to do, I just assumed that, as she was great at her job, she would know what I was expecting.
After the first three months, my Account Manager left to work for a bigger firm. That was when I looked at the account and realised that quite a lot of what should have been done, hadn't been done. My fault entirely for not carrying out a proper handover and for checking in more often. Sue also noticed that things weren't right and told me that she wasn't happy.
How did I handle her complaint? By apologising for not looking after her and arranging a meeting so we could talk about it. Speaking to an unhappy client face to face is a daunting prospect, but it was the best thing to do. By the end of the meeting, we'd agreed exactly what needed to be done to catch up on what we'd missed; and what we would do going forward. This included charging Sue a lower monthly fee and doing less work for her. Not ideal for my cash flow, but it suited her better and I knew that we could deliver the smaller work load to a high quality.
Everything settled down and Sue was happy for a while, until I handed her account to another member of staff. This time the briefing was thorough and everyone knew exactly what work was to be carried out, but there was a problem of personalities – they just didn't get on. I started to get a feeling that something wasn't right from listening to phone conversations and seeing the lack of progress on monthly work. As soon as I realised how serious the problem was, I called Sue. What followed was a fairly tricky phone call with my client, when I had to just shut up (difficult for me!) and listen to everything she had to say, but it was worth it. Listening to what an unhappy client has to say and then working out the best way to get them the result they want is essential. I didn't make excuses for the problems that had occurred or try to justify them; I just apologised and worked with Sue to get her the results she wanted.
The result? In the last month Sue has sent me two really great referrals and I've started working with one of them this month. She's really pleased with what we're doing for her, and proves it by recommending us to other people she knows. That's the best measure of how happy your clients are with your service.
So the next time you receive a customer complaint, how are you going to handle it, so that you can turn that client into a raving fan?!